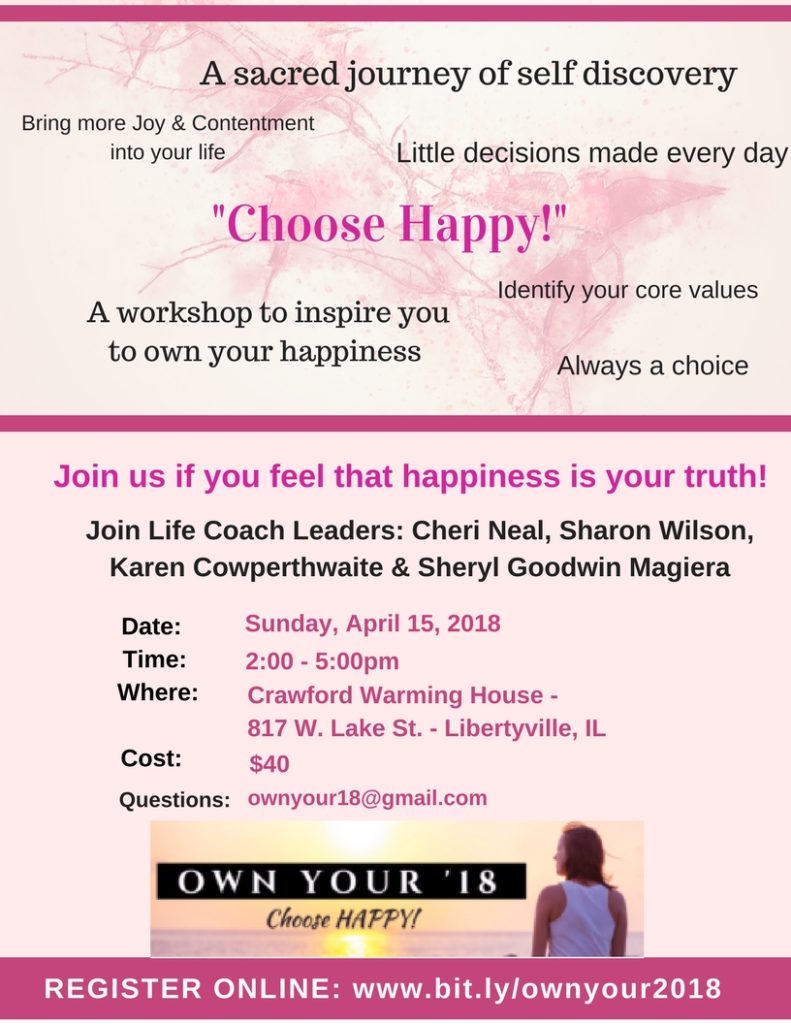 Join Cheri Neal, Karen Cowperthwaite, Sharon Wilson and Sheryl Magiera on Sunday, April 15th to discover ways to consciously wire your brain to choose happiness. It is about understanding your values and becoming aware of your triggers. It's about crucial conversations and self-care. It is about creating a circle of strength around yourself. $40 to assist you in owning YOUR 2018! Register at www.bit.ly/ownyour2018 and find us on Facebook OwnYour'18!
Happiness is letting go of what you think your life is supposed to look like and celebrating it for everything that it is. ~Mandy Hale
If happiness is a choice, have you ever wondered why it's a challenge at times to choose it? Can you really choose to be happy with so many situations outside of your control?
This isn't about blaming or expecting anyone to be in a state of perpetual bliss. It's about understanding our own values and the lessons that our personal struggles bring forward. To build healthier relationships with others, we need to develop a stronger inner relationship. Your true source of happiness will always come from within.
This process is a sacred journey of self-discovery, likely filled with "ah-ha" moments, some laughter and surprises. So what are the little decisions we can make every day to bring more joy and contentment?
Join Life Coach Leaders Cheri Neal, Karen Cowperthwaite, Sharon Wilson & Sheryl Goodwin Magiera as we inspire you to own your happiness through:
* Identifying your core values
* Decoding the link between your values & triggers
* Shifting your energy & emotions
* Calming techniques for your relationships
* Standing in your personal power
* Creating your circle of strength
Reserve your seat – just $40 for 3 hours of inspiration and intentional goal setting for 2018! You will leave with a gift to keep in your Soul Care Space as well! Space is limited so gather your friends and sign up for this day of fun, inspiration and connection!
This workshop is appropriate for teens and adults.
Light snacks and flavored water will be provided! Bring your water bottle to fill up if you'd like more than a cup at a time 🙂
FOR MORE INFO: https://www.facebook.com/events/185410532189601/
TO REGISTER – www.bit.ly/ownyour2018
Registration is limited to 40, so REGISTER TODAY. Event details also on FACEBOOK.
For questions — 847-508-6679 — karen@soulysister.com
Karen Cowperthwaite: MEd: Master Intuitive Life Coach and Angel Energy Healer. "I support individuals to reconnect to your heart and reclaim your light, wellness and empowered self."
---
SEEKING TO LIVE LIFE SOUL FULLY 
Tools to Get Back to Inner Peace – YES YOU CAN!
This group meets on the 4th Tuesday of each month-7:00-8:45pm
                     For meeting location, information and to RSVP: contact Karen or CLICK HERE                        
We're a group of manifesting women who meet monthly to actively engage in creating and manifesting the very things we want for ourselves and for our world! You can join us at any time and step into your power and focus on manifesting for the better! The process is easy and we will show you how to set an intention to have what you desire come to you as effortlessly as possible.
The Intention Process uses a simple method of empowerment. We understand that our desires are in us to be fulfilled and that our thoughts create our reality. We support and help one another to become as clear as possible in our words and our thoughts so that we can live our lives to the fullest.
Anyone can do it! We say our intentions each day and gather together monthly in an Intention Circle, and we make changes in our lives for the better.
We ask each participant to contribute $5 each meeting towards the cost of our group. Meetup signs will be posted to guide you to the 2nd floor Wellness Center.
Please join us and be a part of a supportive group who meets to learn tools and techniques to get out of the overwhelm and stress to grow and discover the peaceful part of us that we thought we lost. For additional information: http://www.meetup.com/Seeking-to-Live-Life-Soul-Fully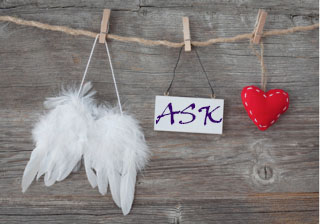 INTUITIVE HEALING SESSIONS WITH KAREN


AN OPPORTUNITY TO SUPPORT YOURSELF MIND, BODY, & SPIRIT

SESSIONS OVER PHONE, VIDEO CONFERENCE OR IN PERSON IN LIBERTYVILLE & IN LAKE VILLA, IL

My Intuitive Energetic Sessions are all about assisting you to shift and heal yourself on an energetic level. Sessions begin with clients lying on the table to relax the body.  By setting an intention, Spirit and the angels gently work with you to bring healing with a special theme for what you need to know.  The high vibration of angelic healing energy is peaceful and energizing at the same time.

You will discover that this combined coaching, channeling and energetic personal session is a spiritual inquiry that supports you to learn more about yourself and your journey. Your session conveys uplifting insights that you may already know, but often cannot be seen from your very human point of view. You will take away personal notes to remind you of your session's lessons.

Call or EMAIL Karen to schedule your appointment or Book Online at www.bookeo.com/Karen-SoulySister to arrange your session in her Libertyville or Lake Villa locations. Sessions are also available via Skype or telephone.
SaveSave
SaveSave
SaveSave